As we commemorate 100 years since the end of the First World War, it is timely to look at two new war-themed books by much-loved author, Michael Morpurgo. While written for children, these books really are for everyone.
Poppy Field
By Michael Morpurgo
Illustrated by Michael Foreman
ISBN 9781407181424
Scholastic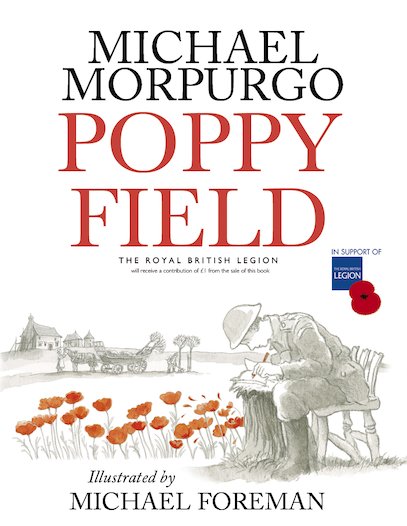 Michael Morpurgo and Michael Foreman are well known for their partnership over many  award-winning children's books. This time they have teamed up with the Royal British Legion to tell an original story that explains the meaning behind the poppy and why we wear it still.
Morpurgo skilfully tells the story of young Martens whose family live on a farm in Flanders Field. 
A poor girl out selling eggs one day meets a soldier as he sits on his own trying to write a poem for his dead comrades; in particular, his best friend, whom he has just buried. He doesn't want eggs or even the poppies she offers him, but upon his request, she places some poppies on the dead soldier's grave. In return, she takes a crumpled up scrap of paper with the draft of a poem he was working on. The poem is eventually framed and handed down through four generations of the young girl's family. The poem is In Flanders Fields.
While the story speaks many truths, it is a work of fiction but more important than that, it is a reminder of who we are and where we come from. it shows us that there is hope and a future because of those who fought before us and for us.
The story is beautifully illustrated in soft greys, blacks and browns, with the only colour being the red poppies which stand out, symbolic and proud.
The Afterword about the history of the poppy and why it is still worn 100 years later, however, is in full colour. The contrasting colours between the story and the Afterword only adds to the haunting quality of the story. A  story that needed to be told. 
Teacher notes can be found here.
Our Jacko
By Michael Morpurgo
Illustrated by David Gentleman
ISBN 9781406366136
Walker Books
There is an old scruffy tin hat which has always been in Michael's house for as long as he can remember.  It has been used as a toy, a feeding bowl for the hens and even a hanging basket but no one can remember where it comes from. Michael hates it, always has, especially the hole and what the hole likely means. Somewhere, someone wearing that helmet must have died in the war. A school trip and project about the First World War is what changes Michael's mind when he discovers the hat belonged to his great, great grandfather, Jacko, who never returned from the war. Our Jacko, as the family used to call him, died in Ypres in 1915. Michael and his family discover Jacko's old diaries and learn so much about life in the trenches, fighting during the First World War. 
Michael Morpurgo takes us on a journey of discovery and the realisation that no matter how awful and tragic the war was, we do need to remember it. We do need to remember those who died and the impact of those losses on everyone and how it changed the world. Peace came at a cost, and we need to remember those who paid the price. 
This is a special book aimed at the 8-12 year olds,  perfectly timed for Armistice Day, the end of the First World War, the war to end all wars.